System SELF-DEFENSE 1: Training course for beginners
Autumn course: November - December 2020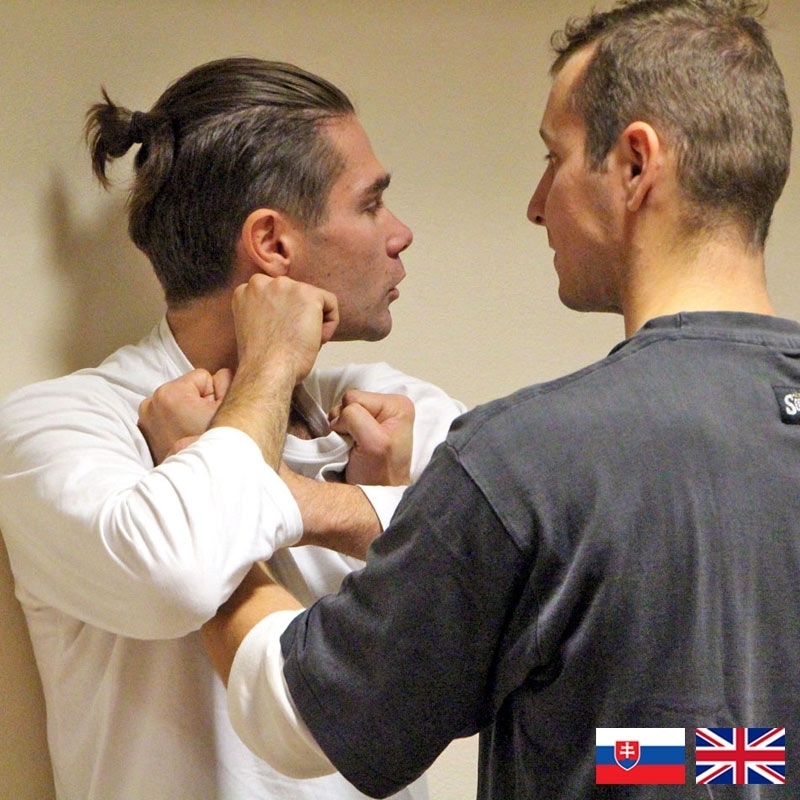 SELF-DEFENSE 1:
Autumn course 2020, Bratislava
Course duration: 3rd November – 3rd December 2020
Morning trainings:
 – Tuesday: 07.00 – 08.30 AM
 – Thursday: 07.00 – 08.30 AM
Venue: Bratislava – center, Štetinova 1
Course content: Training: 10 lessons (1,5 hour per lesson)
Price: 75,00 €
I WANT TO JOIN THE COURSE
Notes:
This course will be guided in Slovak + English language
It is recommended to sign up in advance via the registration form below (reservation of a place in course due to limited capacity)
Reservation fee 10,00 € . Your first lesson is open. Feel free to test the system, learning process and a work of instructors
Payment: If you decide to attend the full course, the payment will be realized within 2 days after your first lesson
In order to participate in the training process it is obligatory to fill the form: "Declaration of own responsibility / Declaration of avoiding a misuse of the combat skills and know how "
Selection of basic self-defense techniques from the system SELF-DEFENSE 1
Offenses:
- one hand grips
- two hand grips
- two-handed attacks and holds from the front (various variants of distances, body pose, differences in momentum "before hold" – "in hold" etc…)
- selected grips from the back
System SELF-DEFENSE 1
Course description:
Systematical and comprehensible teaching in System SELF-DEFENSE 1 is customised for beginners and people with no previous self-defense or martial arts experience. Teaching is logically divided into thematic units of practise which include selected simple and functional self-defense principles against most common threatening situations and types of attacks. The course consists of 15 –20 lessons of technical self-defense and includes an important workshop "Psychology in self-defense".. The system of teaching thus includes both: the "technical self-defense" and the very important part of "psychology". Trainings are suitable for men and women.
Overall, this course provides a valuable basis and could be seen also as a very good threshold experience into further martial arts or self-defense training.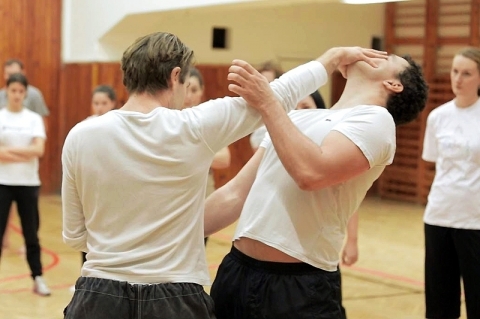 System SELF-DEFENSE 1:
Training course for beginners
Fundamentals:
Training of the key body movement principles in self-defense
Working with space, angles & orientation
Body postures in self-defense
Body anatomy in self-defense (basics)
Self-defense:
Defense against grips and holdings from the "front side"
Defense against punches (direct & side)
Defense against grips from the "back side"
Defense against and chokes (elimination and liberation)
Use of the blocks and counter techniques in self-defense
Defense using pressing on selected sensitive and painful body parts
Use of the items of daily use in self-defense
Real self-defense and body constitution (of the self vs. attacker)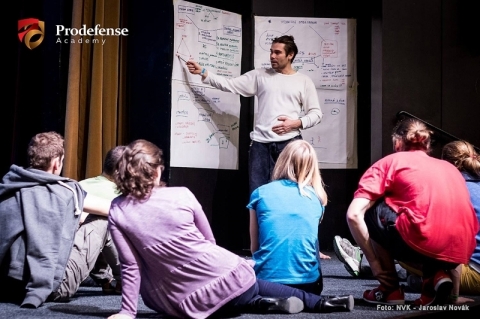 Psychology in self-defense:
Conflict prevention and resolution (workshop)
Essential Know – How:
Analysis of the problem situation
Subconscious mechanisms and mental adjustments
Stress reaction: Psychology and physiology
Stress management & self-regulation: how to regulate the stress reaction in tense situations: Theory + Practice
Connection: Body – Breath – Mind
Emotions: "A good servant, bad master"
Rational thinking vs. instinct and intuition
Conflict prevention & conflict resolution:
Tactical behaviour (behavioral principles) in problem situations: "Body language", communication and negotiation
Strategies for conflict resolution & conflict de-escalation
Inevitable use of physical self-defense versus an effort of "non-conflictful solution of the problem situation"
Know-how application in the model situations
Where we train:
Bratislava - town centre. Stetinova 1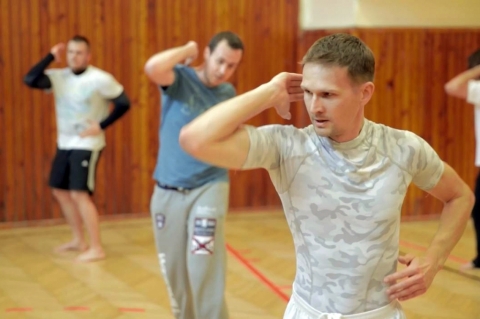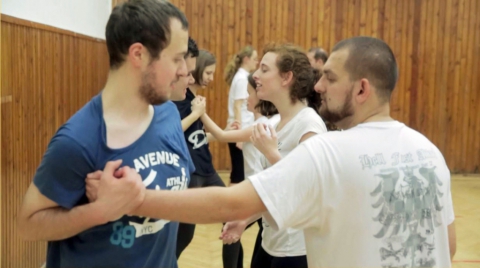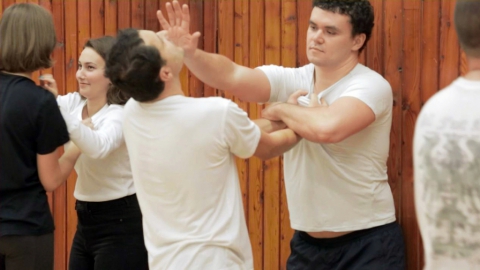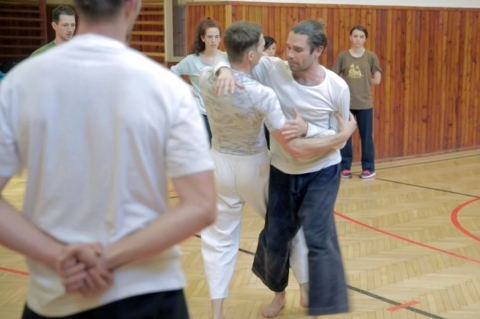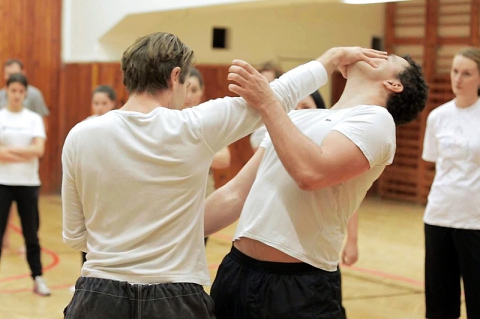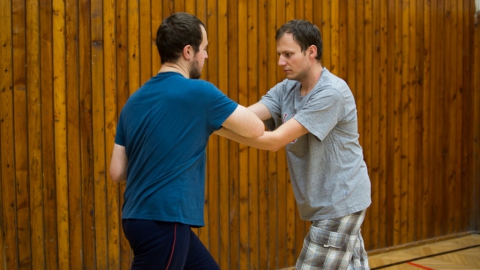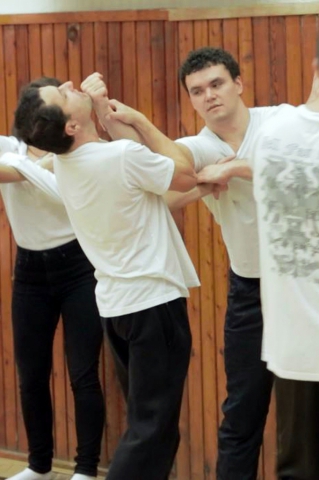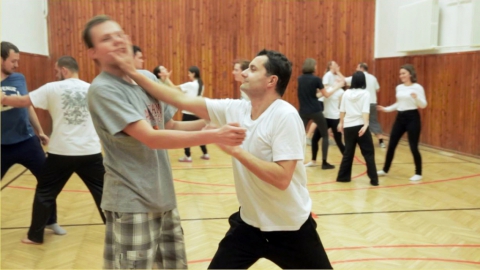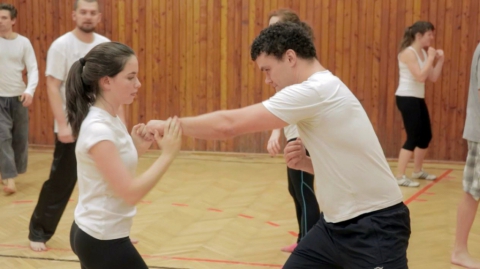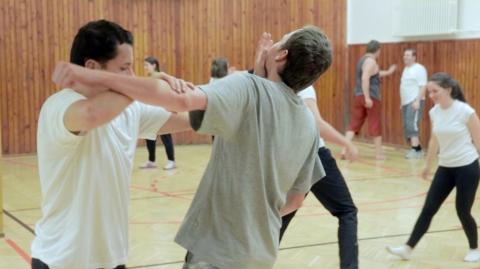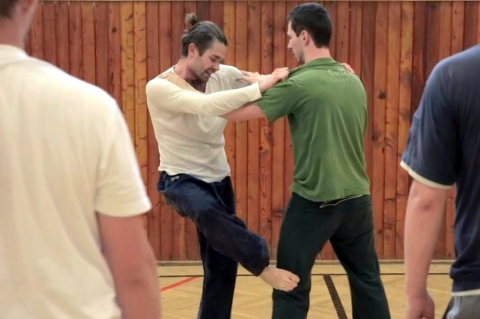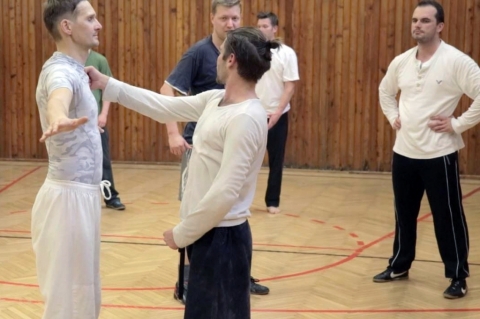 ---
Training organizer reserves the right to exclude from training and workshops individuals in which they are seen and manifested:
signs of an abuse of the learned combat skills, signs of override behavior over the others, signs of aggressive behavior, signs of non-controlled anger, signs of abuse of the learned skills to the intentional harm to other trainees or to people out of the training and trainees who repeatedly don´t pay attention to instructions given by the coach and thus increasing a risk of injury to self or to others.
Self-defense and combat skills are taught within the frame of one´s own protection & prevention, the protection of others, correspondingly also within the scope of protection of the material goods and the property and most of all within the frame of humanism.